A supply chain includes all the components involved, directly or indirectly, that satisfy the customer's needs. The supply chain includes not only manufacturers and suppliers, but also transporters, warehouses, retailers and even customers themselves. In an organization, such as a manufacturer, the supply chain includes everything involved in receiving and fulfilling the customer's needs. Supply chain is a dynamic flow and includes constant flow of information, product and financial resources between different stages.
A typical supply chain can consist of several steps. The stages of the supply chain are:
Customers
Retailers
Wholesalers/distributors
builders
Suppliers of raw materials/components
The goal of any supply chain should be to maximize total production value. The value that a supply chain produces is the difference between the value of the final product to the customer and the costs that the supply chain incurs to fulfill the customer's request. The decision-making stages in the supply chain can be classified into design, planning and implementation (operational) according to the decision-making time frame.
In the era of expanding global supply chains and developing supply networks, effective and data-driven supply chain planning is more critical than ever.
Supply chain planning (SCP) is a forward-looking process for coordinating our assets to optimize the delivery of goods, services, and information from suppliers to customers and to balance supply and demand. Today, the ability to cope with the speed of changes in the market while controlling costs in a global environment that includes a lot of uncertainty is important in doing business successfully. So you have to ask yourself some questions, are your forecasts accurate enough to respond to the variability in demand?
Is your supply chain transparent enough that you can review your entire multi-site enterprise with the same degree of accuracy as you would a single site?
Can you give your customers reliable delivery times and deliver their orders on time? Can you track every single part of your inventory, whether it's in stock or in transit?
And finally, can you do all of the above in a single enterprise software suite that allows you to grow and change as the market fluctuates?
If you are facing any of these challenges, take a closer look at IFS programs and specifically IFS supply chain planning . A single and integrated solution that covers all your supply chain needs, brings you closer to the heart of the business and puts you ahead of your competitors. Our software and technology are designed to facilitate your business and remove non-value-added tasks from existing processes. Also, the intelligent solutions of this software for demand planning, sales, warehousing and logistics are other reasons why IFS programs are chosen by many companies around the world.
Stay flexible with digital supply chain software . Fully embedded in our Enterprise Resource Planning (ERP) software, the IFS Supply Chain Planning module allows everyone in your organization to have a definitive view of your business data. Work with data you can trust. All information is updated across the app in real-time, and you can empower everyone in your organization with a unified view.
In the following, the main capabilities of the supply chain planning module in the IFS software are described.
Demand Planning and Forecasting (DP)
Sales and Operations Planning (S&OP)
Master Production Schedule (MS)
Material Requirements Planning (MRP)
Resource Requirements Planning (RRP)
Capacity Requirements Planning (CRP)
Constraint Based Scheduling (CBS)
Kanban system
Demand planning and forecasting
Demand forecasts form the basis of all supply chain planning. Our planning and forecasting capabilities, developed in close collaboration with our clients, enable you to reduce administration costs, improve customer service and increase return on investment.
Increase forecast accuracy with several different statistical models and forecast error measurement methods. Models include Best Fit, Bayesian, Brown's level and trend, and many others. By helping you ensure you produce the right amount of product at the right time, our solution results in a return on investment (ROI) that you'll love with the level of service and delivery your customers want. Modify inventory planning and replenishment.
Direct connection to IFS Demand Planning allows you to respond faster and more effectively to changes in demand and forecast accuracy.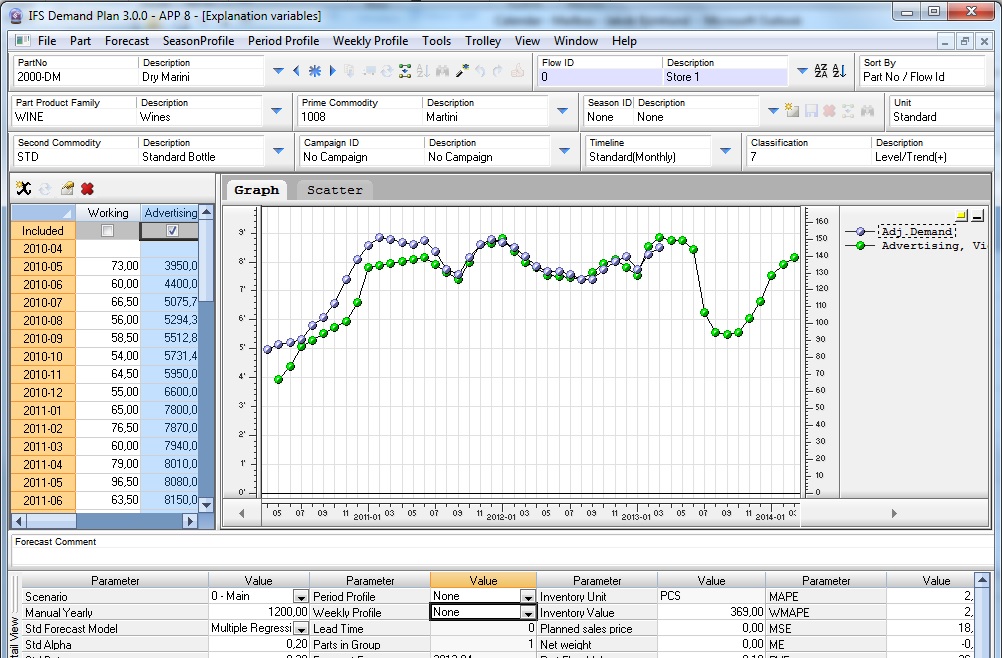 Sales and Operations Planning (S&OP)
Sales and Operations Planning (S&OP) is a business management process used by the executive team to achieve alignment and synchronization among all functions of the organization. By using this feature, you can achieve a proper balance between supply and demand in the medium and long term and reduce your organization's costs to the minimum possible. This process is a set of decisions, the final output of which is achieving balance in the system.

Master Production Schedule (MS)
Master scheduling is the detailed planning process that tracks production output and matches this with customer orders. The master schedule (MS) is a representation of demand, including forecasted demand, committed demand, master schedule (MPS), inventory on hand, and backlog. The task of the MS is to indicate the latest acceptable times to start the main production schedule (MPS) in order not to face shortages. You can use this feature as an interface between the cumulative production schedule and production control on the shop floor. In addition, MS leads to gross demand, which forms the basis of material requirements planning (MRP).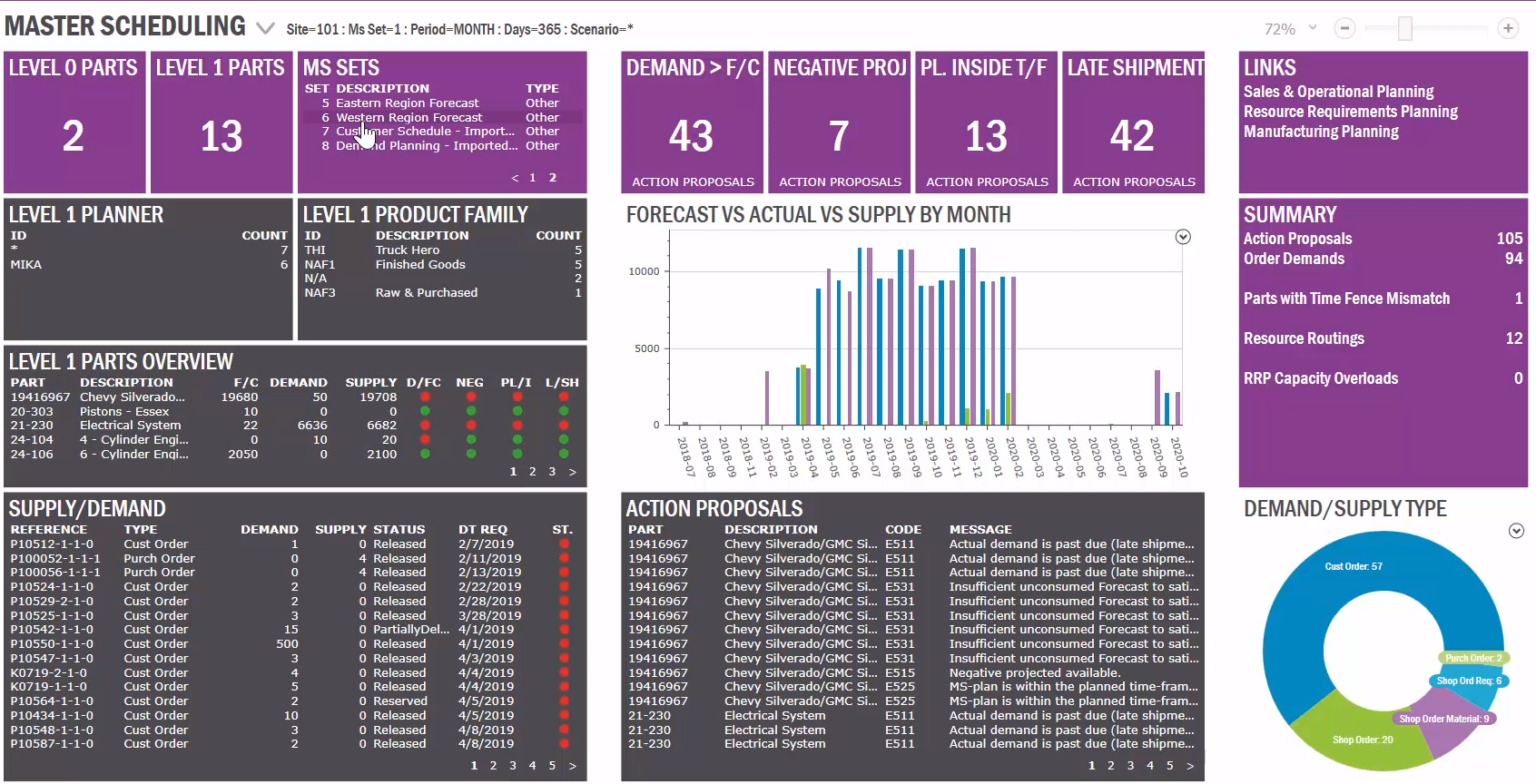 Material Requirements Planning (MRP)
Planning of required materials is a method that starts with a forecast for the demand of the manufactured product and depends on the demand according to:
Types of components needed
Precise quantitative needs
It determines the schedule of orders to ensure a production schedule.
By using this feature, you can manage your production process and reduce the liquidity required for your organization. In this way, the profit from your investment will increase. In manufacturing organizations, large amounts of cash are involved in warehousing parts while they are being made and waiting to be assembled. The ability to plan material requirements tries to minimize this liquidity.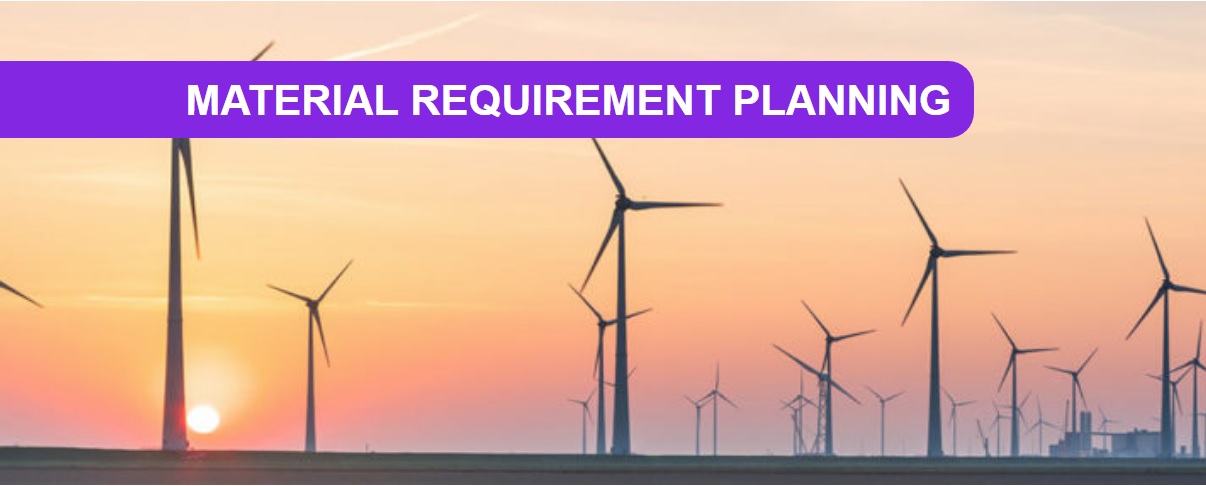 Resource Requirements Planning (RRP)
Resource Requirements Planning (RRP) is the planning of production resource requirements including machinery/equipment, workers, inventory levels based on the production plan. Using the capability of production plan, capacity plan and financial plan are checked. You create a resource requirements plan after creating the long-range forecast, but before executing the master schedule.

Capacity Requirements Planning (CRP)
Capacity Requirements Planning (CRP) is the act of estimating, measuring, setting capacity limits and levels. By using this capability, more detailed and accurate planning of the production quantity in each workstation and each machine along with the time required for production both for material requirement planning (MRP) and for orders in progress in the workshop is prepared. They are compared with the available time of machines, manpower, etc.

Constraint Based Scheduling (CBS)
Constraint-based scheduling is a method to solve scheduling problems in an organization by expressing constraints on the variables of the problem. Using this feature, you can perform advanced planning (AP) considering the limitations of your organization.

Kanban system
Kanban is a Japanese word that means card and it is a sheet of paper or a plastic card that is inside a transparent plastic envelope. On this sheet or card, there is information about the material and part and the previous process, which will be useful during the delivery of the work by the subsequent processes, and also the kanban may contain information about the work order or transportation. These cards actually replaced the above forms. Using this feature, you can achieve the following goals:
Reducing the problem of pallets (less delay to receive an empty pallet, returning the transport vehicle with an empty pallet, reducing the delivery time of the cargo)
Reducing the cost of transportation
Speeding up receiving feedback on quality problems of production products and reducing the number of defective production parts
Reducing waste caused by incorrect storage in warehouses
Reducing worries about the lack of parts at the time of ordering and making a more accurate estimate of the next period's needs
Establishing and developing the culture of lean production in manufacturers
Knowledge of the latest status of shipments